SIERRA NEVADA GUITAR FESTIVAL 2017

• Festival Dates: July 20-21, 2017, Trinity Episcopal Church, Reno, plus pre-festival event July 9, 2017, St. John's Presbyterian, Reno, July 13, Trinity Episcopal
• Co-Sponsor: Trinity Episcopal Church, July 20-21
• Guest Artists: Duo Siqueira Lima, Sedona Farber, Matthew Fish
• Concerts: All concerts free to the public, donations requested!
• Competitions: Adult and Youth, $5000.00 Total Prizes!

• Home Page
• Adult Competition Rules and Registration
• Youth Competition Rules and Registration
• Schedule of Events
• Masterclass with Duo Siqueira Lima Registration
DUO SIQUIERA LIMA
Concert: Thursday, July 20, 7:00pm, Trinity Episcopal Church, Reno


Duo Siqueira Lima is one of the world's most prestigious chamber ensembles having won the Profissionais da Música Award 2015 in Brazil and the International Press Award 2014 in the
United States. Their work features music of the classical repertoire to popular music of Latin America. The Duo includes Cecilia Siqueira, born in Uruguay, and Fernando de Lima from Minas Gerais, Brazil. Cecilia and Fernando are recognized for their technical and interpretive virtuosity as well as for their daring and original arrangements for two guitars. Since 2003, they have toured the world performing in major European capitals, many cities in North America as well as sojourns to Africa and Russia. They are favorites throughout major music centers in Latin America and in prestigious halls including Lincoln Center (New York), New World Center (Miami) and Amsterdam Concertgebouw.
SEDONA FARBER
Concert: Friday, July 21, 12:00pm, Trinity Episcopal Church, Reno



It's always exciting to discover genuinely talented young players. Sedona Farber has already won or placed in a number of competitions, including first prize in the 2016 Sierra Nevada Guitar Competition, first prize in the 2015 GFA International Youth Competition, the SF Bay Competition, the Indiana University International Guitar Competition, the Pacific Guitar Competition, and others. A student at Orange County High School for the Arts in southern California, she also plays in the Farber Duo with her sister Haley.
MATTHEW FISH
Concert: Sunday, July 9, 3:30pm, St. John's Presbyterian, Reno

Hailed by Classical Guitar Magazine as "a master," San Francisco-based classical guitarist Matthew Fish is a prize-winning soloist, chamber musician, and teacher. Matthew's debut album, From Her Source to the Sea, is devoted entirely to the solo guitar music of Swedish guitarist and composer Johannes Möller. Soundboard Magazine called the album "a first-rate release," noting "some of [the music] sounds fantastically difficult, making one wonder how many fingers Mr. Fish has on each hand."

2017 CLASSICAL GUITAR COMPETITION FINALS
Friday, July 21, 1:30pm, Trinity Episcopal Church, Reno
With top prizes of $2000.00, $1250.00, and $750.00, this year's internationally recognized adult classical guitar competition promises
to be an exciting event. Watch four finalists compete for top prizes, open to the public!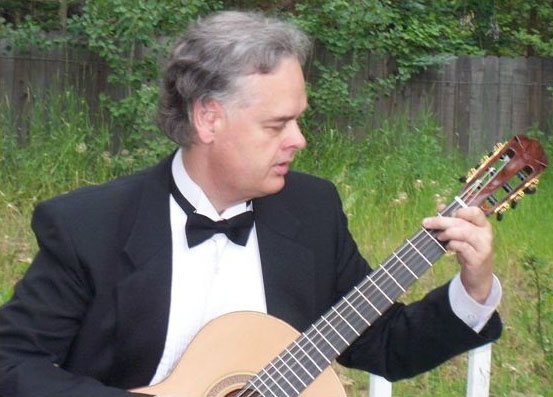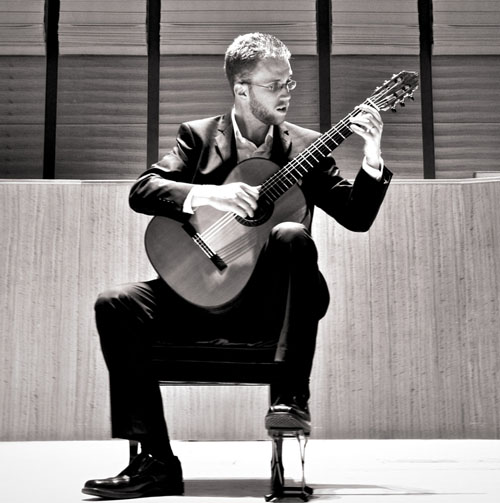 Larry Aynesmith ________ Matthew Fish
Festival Director ________ Competition Director
www.larryguitar.com _____ www.matthewfishguitar.com