Forthcoming Events

SF BAY AREA Classical Guitar Festival & Competition
May 2, 2015, Walnut Creek, California
Presented in collaboration with Classical Gala West and
St. Paul's Episcopal Church (Dwight Stone, Music Director)
Christina Sandsengen, Featured Artist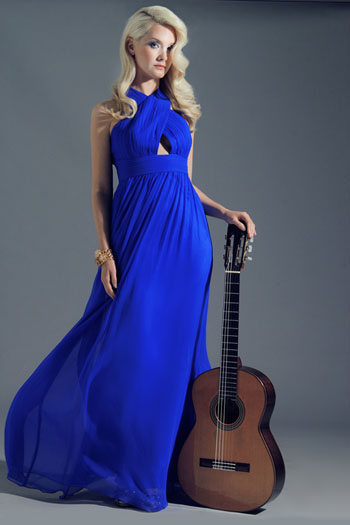 With guest artists Duo SF and Larry Aynesmith
Featuring: Concert, Masterclass, Adult and Youth Competition

Tickets and Registration
Registration for attendees, competitors is available at door or online. (Use arrow to choose May 2 All Event Festival Pass for $40.00, (no additional fee for Competitors,) or $15.00 Ticket only for May 2, 7:30PM Concert. Keep your PayPal receipt with you for admission to events. Performer fee for masterclass with Christina Sandsengen is an additional $50.00, only four students accepted. To register for masterclass email music@cgwest.org.
YOUTH DIVISION II competition is now closed to new registrations. Please purchase competition passes only for Adult, Youth Division I, Youth Division III.
Individual Tickets only for Concert featuring Christina Sandsengen, May 2, 7:00PM, $15.00:
10:00AM to 12:00PM
Masterclass: Christina Sandsengen
1:00PM to 3:00PM
Competition: Adult, One Round
3:00PM to 5:00PM
Competition:
Youth Division I, One Round, ages 16-19
Youth Competition, One Round, Division II, ages 12-15
Youth Competition, One Round, Division III, up to age 11

7:15PM
Prize announcements: Youth Divisions
7:30PM
Concert: Christina Sandsengen
also featuring Duo SF and Larry Aynesmith
Intermission: Prize announcements, Adult Division
Post-Festival party and gathering to be announced.
FEATURED ARTISTS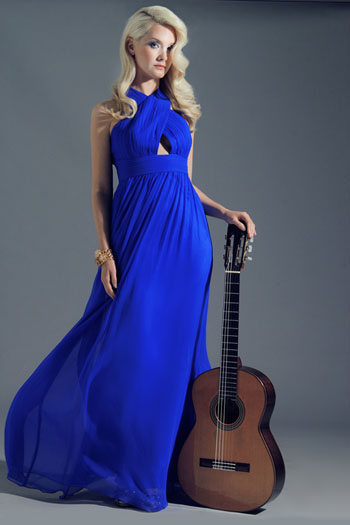 CHRISTINA SANDSENGEN
www.christinasandsengen.com
Christina Sandsengen studied classical guitar at the Norwegian Academy of Music and at the Conservatorio Superior de Música "Manuell Castillo" in Spain. She has performed in the Norwegian National Opera, in England, Sweden, Turkey, Bolivia, Peru, Spain, Thailand, Malaysia, Singapore and China. She was recently elected as a board member of the Classical Guitar Association of Norway. Her debut album Shades & Contrast received great reviews from The Independent and Gramophone Magazine.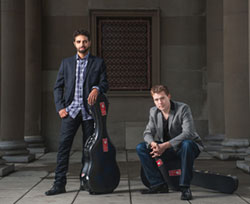 DUO SF
www.duosfguitar.com
Featuring Christopher Mallett, M.M., Yale University and Robert Miller, M.M., Eastman School of Music. Both artists are Directors at the California Conservatory of Guitar.

LARRY AYNESMITH
www.larryguitar.com
Larry Aynesmith is an honoree of the Nevada Artist Fellowship Program. He received an M.M. from Butler University and is a #1 Classical Artist on the First Internet Music Charts.

July 23-24, 2015
SIERRA NEVADA CLASSICAL GUITAR FESTIVAL
& COMPETITION
and Reno Artown Festival
Location: Trinity Episcopal Church, 200 Island Ave., Reno, NV
Cost: July 23, 3:00PM and 7:00PM concerts free, donations requested
Other events $20.00 at door or buy festival pass for admission to all events for only $49.00. Competitiors are required to buy $49.00 pass, no additional fee required. Masterclass performer fee is an additional $49.00 per class. Classes are available with Jon Mendle, Patrick O'Connell, and Ramon Fermin. Email music@cgwest.org to register.
Buy Sierra Nevada Guitar Festival 2015 Pass:

Schedule

Thursday, July 23, 2015
9:00AM - COMPETITION: Adult Competition first round
1:30PM - MASTERCLASS with San Francisco Guitar Quartet
3:30PM - CONCERT: Larry Aynesmith and Friends
7:00PM - CONCERT: San Francisco Guitar Quartet
Friday, July 24, 2015
1:30PM - COMPETITION: Youth Competition
4:00PM - COMPETITION: Adult Competition Final Round
6:00PM - AWARDS: Competition Awards Ceremony and Festival closing Celebration.
Competition: Entering the competition is easy and open, just purchase a Sierra Guitar Festival 2015 Pass (see above) through PayPal and indicate which Division you wish to enter.
Competition Rules: Free choice of repertoire. All decisions of judges are final. Open to all nylon string classical guitarists, except touring artists with agent representation. All decisions of judges arer final.
Adults: No age limit, 10 minutes first round, 15 minutes second (final) round. Adult prizes: 1st Prize $500, 2nd Prize $250, 3rd Prize $150.
Youth Divisions: Youth Division I (ages up to 12), One Round, 7 Minutes. Youth Division II (ages 13-17), One Round, ten minutes. Prize packages from Strings By Mail. Honorable Mention prizes will also be awarded. All prizes will be announced at the Friday awards ceremony.
* * *
Walnut Creek, California
Walnut Creek Guitar Festival
May 2, 2015
Sondre Hoymer, Classical Guitarist,
July 10, 2015

Lake Tahoe, Nevada and California
Sondre Hoymer, Classical Guitarist,
July, 2015 tba

* * *
(c) 2015 Classical Gala West
music@cgwest.org
Tel: (775) 298-1686
P.O. Box 6083, Incline Village, NV 89451