Forthcoming Events

SF BAY AREA Classical Guitar Festival & Competition
May 2, 2015, Walnut Creek, California
Presented in collaboration with Classical Gala West and
St. Paul's Episcopal Church (Dwight Stone, Music Director)
Christina Sandsengen, Featured Artist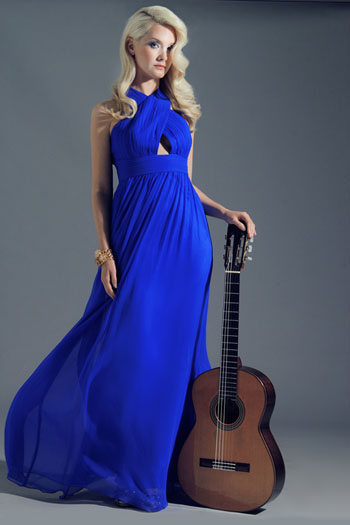 With guest artists Duo SF and Larry Aynesmith
Featuring: Concert, Masterclass, Adult and Youth Competition

Tickets and Registration
Registration for attendees, competitors is available at door or online. (Use arrow to choose May 2 All Event Festival Pass for $40.00, (no additional fee for Competitors,) or $15.00 Ticket only for May 2, 7:30PM Concert. Keep your PayPal receipt with you for admission to events.
Festival Info and Schedule
Location: St. Paul's Episcopal Church
1924 Trinity Avenue, Walnut Creek, California 94596
Tickets: Festival Pass only $40.00 for all events, competitors are required to buy pass. Individual ticket only for Christina Sandsengen concert $15.00. Available at door or online. Attendance cost at all other events without Festival Pass is $20.00 each cash at door.
Travel: Easy access from highway interstates, San Francisco and Oakland airports via BART, trolley from BART station to stops walkable to festival site. Festival parking across street from church during festival events (no overnight parking).
Restaurants: A wide variety of upscale restaurants and shopping is within walking distance in the vibrant downtown area of beautiful Walnut Creek, California.
Hotels: Nearby hotels include the Walnut Creek Marriott, the Walnut Creek Motel 6, and others. Book well in advance because hotels may sell out this time of year. Check this website for possible hotel specials for festival attendees, coming soon.
Masterclass: Additional fee to perform in masterclass for Christina Sandsengen is $35.00, only four times available, send email to: music@cgwest.org.
Competition: Entering the competition is easy and open, just purchase an All Events Pass (see above) through PayPal and indicate which Division you wish to enter.
Competition Rules: Free choice of repertoire. All decisions of judges are final. Open to all nylon string classical guitarists, except touring artists with agent representation.
Adults: No age limit, one round 10 minutes each. Adult prizes: 1st Prize $250, 2nd Prize $150, 3rd Prize $75.
Youth Divisions: One Round 7 minutes each.
Youth Divison: $100 cash prize for overall youth division winner, 1st through 3rd Prizes in each Division receive a package of assorted gifts. Honorable Mention prizes will also be awarded in each category. All prizes will be awarded during the Saturday evening concert.

Festival Schedule
(Some slight revisions may take place prior to festival)

Saturday, May 2, 2015
10:00AM to 12:00PM
Masterclass: Christina Sandsengen
1:00PM to 3:00PM
Competition: Adult, One Round
3:00PM to 5:00PM
Competition:
Youth Division I, One Round, ages 16-19
Youth Competition, One Round, Division II, ages 12-15
Youth Competition, One Round, Division III, up to age 11

7:15PM
Prize announcements: Youth Divisions
7:30PM
Concert: Christina Sandsengen
also featuring Duo SF and Larry Aynesmith
Intermission: Prize announcements, Adult Division
Post-Festival party and gathering to be announced.
FEATURED ARTISTS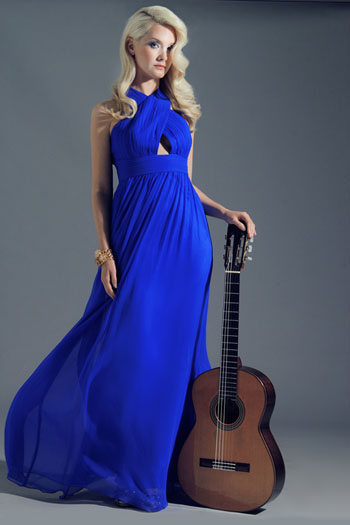 CHRISTINA SANDSENGEN
www.christinasandsengen.com
Christina Sandsengen studied classical guitar at the Norwegian Academy of Music and at the Conservatorio Superior de Música "Manuell Castillo" in Spain. She has performed in the Norwegian National Opera, in England, Sweden, Turkey, Bolivia, Peru, Spain, Thailand, Malaysia, Singapore and China. She was recently elected as a board member of the Classical Guitar Association of Norway. Her debut album Shades & Contrast received great reviews from The Independent and Gramophone Magazine.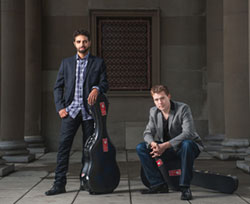 DUO SF
www.duosfguitar.com
Featuring Christopher Mallett, M.M., Yale University and Robert Miller, M.M., Eastman School of Music. Both artists are Directors at the California Conservatory of Guitar.

LARRY AYNESMITH
www.larryguitar.com
Larry Aynesmith is an honoree of the Nevada Artist Fellowship Program. He received an M.M. from Butler University and is a #1 Classical Artist on the First Internet Music Charts.
FORTHCOMING EVENTS CALENDAR
On Facebook see "Classical Gala West"

Walnut Creek, California
Walnut Creek Guitar Festival
May 2, 2015
Sondre Hoymer, Classical Guitarist,
July, 2015 tba

Lake Tahoe, Nevada and California
Summer Concert Series at Lake Tahoe
and Reno tba. Including Sondre Hoymer, San Francisco Guitar Quartet, more diverse acts to be announced.
Sierra Nevada Classical Guitar Festival
& Competition, July 24-26, 2015.
Olympic Valley, Caifornia. Featuring SAN FRANCISCO GUITAR QUARTET. See this website for updates coming soon.
Reno, Nevada
Artown Festival July 5, July 12, July 23 tba. July 23 concert features SAN FRANCISCO GUITAR QUARTET at Trinity Episcopal Church in downtown Reno. See this website for
updates coming soon.
Palo Alto, California
July 2015 concert tba.

Mill Valley, California
tba

* * *
(c) 2015 Classical Gala West
music@cgwest.org
Tel: (775) 298-1686
P.O. Box 6083, Incline Village, NV 89451