Irina Kulikova
Friday, October 27, 2017
7:00pm, Trinity Episcopal Cathedral, Reno
With the rare beauty of her tone and her enchanting presence on stage, Irina Kulikova catches the hearts of audiences across the globe. She belongs to that class of musicians that have something pure and special to say with their instrument. Her secret, in life as in music: It's about the touch. "If you take special care of everything and everybody that is dear to you, if you show love and devotion in those little details that make a difference, then you may touch the lives of other people in a way that they will cherish."
Irina Kulikova graduated with distinction at the Mozarteum University in Salzburg (Austria), the Conservatoire of Maastricht (The Netherlands) and the Gnessins Academy in Moscow (Russia).
She was awarded 1st prizes in the highly prestigious competitions of Michele Pittaluga in Alessandria, Italy, Guitarra Alhambra in Valencia, Spain, Forum Gitarre Wien in Austria and the international Guitar Competition of Iserlohn in Germany and the Scharpach Guitar Competition in The Netherlands. Also she was awarded the Youth, Culture and Podia prize in the Amsterdam Concertgebouw.

Sierra Nevada Classical Guitar Festival, July 20-21, 2017
Thanks to all who made the 2017 Sierra Nevada Guitar Festival & Competition such a great event.
2017 Sierra Nevada Classical Guitar Competition Results

Adult Competition Winners:
1st - Bradly Pupa
2nd - Dan Kyzer
3rd - Jack Cimo
4th - Nicolas Emilfork
Youth Division I (ages 15-18):
1st - Dilip Kumar
2nd - Kyle Khembunjong
3rd - Darren Wu
Honorable Mentions - Suvan Agarwal and Morgan Vallat
Youth Division II (ages 14 and under):
1st - Roshan Prabhakar
2nd - Charlie Zhou
3rd - Hannelore Whetstone
Honorable Mentions - Constantin Chekardzhikov, Jacob Everett, Tam-An Nguyen, Andrew Barbuta

2017 Guest Artists were:

Duo Siqueira Lima is one of the world's most prestigious chamber ensembles having won the Profissionais da Música Award 2015 in Brazil and the International Press Award 2014 in the
United States. Their work features music of the classical repertoire to popular music of Latin America. The Duo includes Cecilia Siqueira, born in Uruguay, and Fernando de Lima from Minas Gerais, Brazil. Cecilia and Fernando are recognized for their technical and interpretive virtuosity as well as for their daring and original arrangements for two guitars. Since 2003, they have toured the world performing in major European capitals, many cities in North America as well as sojourns to Africa and Russia. They are favorites throughout major music centers in Latin America and in prestigious halls including Lincoln Center (New York), New World Center (Miami) and Amsterdam Concertgebouw.
SEDONA FARBER
Concert: Friday, July 21, 12:00pm, Trinity Episcopal Church, Reno



It's always exciting to discover genuinely talented young players. Sedona Farber has already won or placed in a number of competitions, including first prize in the 2016 Sierra Nevada Guitar Competition, first prize in the 2015 GFA International Youth Competition, the SF Bay Competition, the Indiana University International Guitar Competition, the Pacific Guitar Competition, and others. A student at Orange County High School for the Arts in southern California, she also plays in the Farber Duo with her sister Haley.

2017 CLASSICAL GUITAR COMPETITION FINALS
Friday, July 21, 1:15pm, Trinity Episcopal Church, Reno
With top prizes of $2000.00, $1250.00, and $750.00, this year's internationally recognized adult classical guitar competition promises
to be an exciting event. Watch four finalists compete for top prizes, open to the public!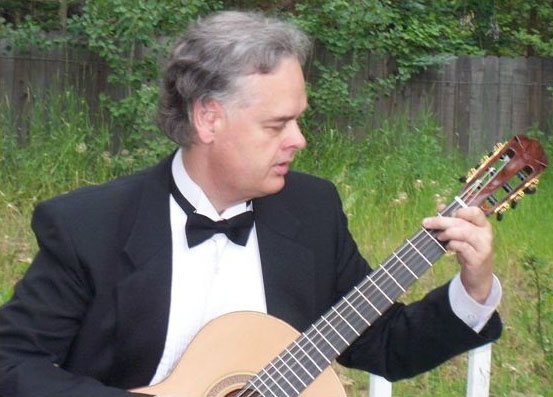 Larry Aynesmith ________ Jack Cimo
Festival Director ________ Competition Director
www.larryguitar.com _____ www.jackcimo.com